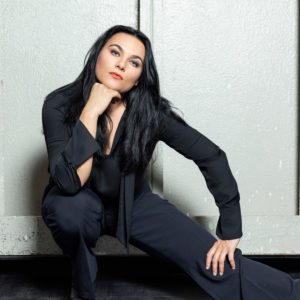 After involvement in the state theatre of Mainz and permanent engagements at the theatre of Osnabrück and the theatre of Dortmund, Almerija Delic has been a permanent member of the ensemble of the Nürnberg State Theatre since the 2018/19 season.
Previous guest engagements led the mezzo-soprano to places like the Deutsche Oper am Rhein, state theatre of Kassel, MIR Gelsenkirchen, the theatre of Magdeburg, the Schwetzingen Festival, where she participated in B. Lang's play "Re:igen", the Eutin Festival, where she sang as Gräfin Geschwitz (Lulu), the municipal theatre of Giessen, the Ars & Musica Antica festival, where she sang the role of Ottavia (L'Inconorazione die Poppea), the opera studio in Graz as Zia Principessa (Suor Angelica), the Now Festival of the Philharmonie Essen, the Zeche Zollverein, the Mercatorhalle Duisburg, the Kammeroper Schloss Rheinsberg as well as the Ludwigsburg Festival.
Conductors, directors and composers she has worked with include:
Conductors: Frank Cramer, Gabriel Feltz, H.K.Gruber, Rolf Gubta, Clemens Heil, Michael Hofstetter, Andreas Hotz, Björn Huestege, Daniel Inbal, Wolfgang Katschner, Motonori Kobayashi, Wolfram Koloseus, Martin Lutz, Joana Malwitz, Ralf Otto, F.X. Poncette, Catherine Rückwardt, Christian Rieger, Patrik Ringborg, Johannes Guido Rumstadt, Michael Schneider, Anhoon Song, Ingo Martin Stadtmüller, Joe Trafton, David de Villiers, Lutz de Veer
Directors: Adriana Altaras, Jochen Biganzoli, Peer Boysen, Clara Deloeuil Le Lab, Georges Delnon, Matthias Fontheim, John Fulljames, Tatjana Gürbaca, Jens-Daniel Herzog, Stefan Huber, Bruno Klimek, Yona Kim, Tilmann Knabe, Tina Lanik, Robert Lehmeier, Florian Lutz, Bernd Mottl, Johannes Schmidt, Katharina Toma, Flores Visser, Andrzej Woron
Composers:
Sidney Corbett, Karlheinz Essl, Gordon Kampe, Peter Kiefer, H.K.Gruber,
Bernhard Lang, Marius Felix Lange, Dirk Reith, Gerald Resch, Wolfgang Rihm, Salvatore Sciarrino, Günter Steinke, Karlheinz Stockhausen
Her repertoire also covers roles such as Carmen, Preziosilla (Forza del destino), Adalgisa (Norma), Amneris (Aida), Judith (Blaubarts Burg), Xerxes (Xerxes), Suzuki (Madame Butterfly) or Kate (Owen Wingrave) and Klementia (Sancta Susanna) as well as Dido (Dido and Aeneas). Another emphasis of her artistic work is the area of new music, where she has been participating in numerous song programmes.
She has been awarded numerous scholarships from, amongst others, Forum Tiberius, Villa Musica, the Richard Wagner foundation and the Walter Kaminsky foundation.